Decorative Films
Residential & Commercial Window Films In Greater Houston
ENHANCE YOUR INTERIOR DESIGN WITH LLUMAR DECORATIVE FILMS
At Sundown Window Tinting, we are proud to partner with Llumar Window Film, the world's leading producer of high-performing decorative window films and tints. Decorative window films allow you to create lasting impressions and set the perfect ambiance for any room in your home or business, while also improving privacy and comfort. All of our decorative films are thoughtfully curated to complement any style. Whether you're looking for a matte frosted glass divider for your office, or a nature-inspired glass banister for your home, we have what you need to create the exact look that you desire — the only limit is your imagination!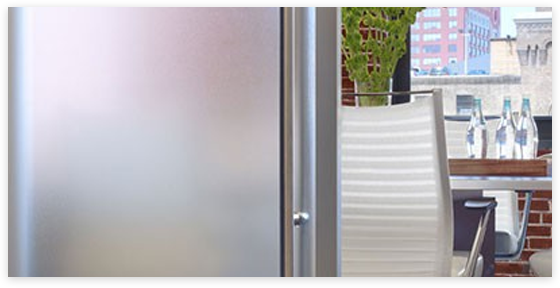 DECORATIVE WINDOW FILMS ALLOW YOU TO CHOOSE DIFFERENT:
Frosts
Colors
Textures
Patterns
Gradients
GET DESIGNER GLASS AT A FRACTION OF THE COST
Decorative window films are perfect for both residential and commercial interior applications. They provide greater privacy and enhanced beauty while also being more cost-effective that etched, colored, or designer glass. Used in a variety of different ways, decorative films can add dimension, divide space, increase privacy, hide unsightly views, and diffuse harsh light.
FINE-TUNE LIGHT TRANSMISSION AND PRIVACY WITH FROSTED FILMS
Frosted window films have so many more applications than just shower doors (though they remain a great option for bathrooms!). Our frosted films, available in colored, textured, and matte designs, allow you to achieve the exact level of privacy that you desire while also adding a striking aesthetic touch.
MATCH ANY SPACE WITH OUR PALETTE OF COLORED FILMS
Colored window films can add a splash of color to any space while also enhancing privacy. We offer both warm and cool tones, so that you can create an eye-catching feature in any room of your home or business.
SIMULATE SPECIALTY GLASS WITH DIFFERENT TEXTURES
Our Llumar textured window films feature delicate, touchable textures that convingly simulate the look and feel of high-end specialty glass, providing any space with sophistication and privacy while maintaining a light and open feel. You might even want to consider our textured styles as an alternative to drapes, shades, and other window treatments.
CREATE STUNNING VISUAL THEMES WITH PATTERNED FILMS
We also offer a series of patterned decorative window films to fit any aesthetic preference. Our nature collection features styles inspired by water, foliage, and sand, while our pattern collection offers striking patterns formed by lines and squares. Those looking for a touch of textile may be interested in our textile collection, featuring fabric-inspired approaches to privacy, such as crossweave, crosshatch, and more.
GET THE BEST OF BOTH WORLDS WITH GRADIENTS
Can't decide whether you want a matte or clear finish? Thanks to our gradient collection, you don't have to choose! Simply select your favorite gradient solution then decide what will or won;t be hidden.
ADD PRIVACY AND BEAUTY WITH DECORATIVE WINDOW FILMS
Whether you're looking to enhance a residential or commercial space, our window tint professionals will have you delightered with your room's new look. Call today to speak with one of our knowledgeable representatives in Houston — they'll be happy to provide you with any information you may need, as well as set you up with some physical samples.